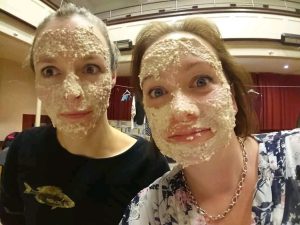 The Ladies Clothes Swap is a great way to get to know other ladies in the village & come away with an updated wardrobe. Bring any good quality clothes, shoes & accessories you'd like to swap, BYOB and enjoy a good natter with the girls. At the last event we had an amazing sports massage therapist offering massages, face scrubs & masks.
Our next Clothes Swap is on 15th March at 7:30pm at The Village Hall.
Following on from the success of our previous Ladies Clothes Swaps, this time we have a focus on Spring/Summer outfits, shoes and accessories. We will also be providing natural face masks and if you fancy it henna tattoos!
Bring your good quality clothes that you no longer wear, and pick up clothes that will be new to you. Please only bring clean clothes, preferably ironed and on a hanger. Acessories too!
The curtains of the VH will be closed & there is plenty of space in the back room for trying on outfits.
Bring your own tipple and a £5 donation for our VH fundraising. Your donation also covers the face masks and henna tattoos.
We are a friendly group, bring a friend, or come on your own & we'll introduce you to other ladies in the village.
Please drop us an e-mail if you are coming along so we have an idea of numbers.