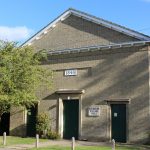 The Village Hall is located at 4 Chapel Road, Great Eversden, Cambridge, CB23 1HP.
The hall is available for hire by residents and non-residents. It is suitable for a wide range of events: Private parties, public meetings, charitable and fundraising events, children's activities, cafés, craft nights, exercise classes, film nights, table tennis, lectures, quiz nights, Apple Days, Produce Shows, club meetings, christenings and weddings. Our local theatre group The Eversden Players perform at the hall twice a year – the pantomime is always a must see!
To find out what's on at our Village Hall check the the home page and the events page, or subscribe to the Eversden's e-mail group (called Eversdens Online) or join the new Village Hall Facebook page.
The Hall has capacity for 120 people. Chairs in the main hall seat 100 people with additional chairs on the balcony. In dining format the main hall can seat 80 people. The Committee Room can seat 10-12.
The main hall is 10.20m x 11.90m and contains a stage which can extend to 14 feet (416cm wide x 426cm deep x 78cm high). There are pillars in the main hall shown here. There is a committee room which is 4m x 6.6m. Please refer to the Village Hall Floor Plan for the layout.
There is a commercial kitchen including a commercial dishwasher, a large fridge and a small freezer. The kitchen is fully stocked with cutlery, glasses and crockery. There are disabled toilet facilities and baby changing facilities. We have WiFi, a digital projection system, a sound system, a hearing induction loop and a microphone.
There are 30 parking spaces: 4 spaces suitable for disabled parking at the front of the Hall, 9 in the carpark, and 17 in the signposted overflow parking area (grassed area).
For more detailed information on the Hall visit our FAQs page and our hiring page.
Village Hall Origins
Originally a Congregationalist chapel, built in 1845 to accommodate 500, reflected the strength of Nonconformity in the Eversdens. (The Eversdens' Past section of the Archive has information about the Francis Holcroft plaque.) By 1937, however, membership had fallen to 22. The chapel finally closed in 1965 when its members joined Kingston chapel. The Eversdens Parish Council bought the building and restored it as The Village Hall.