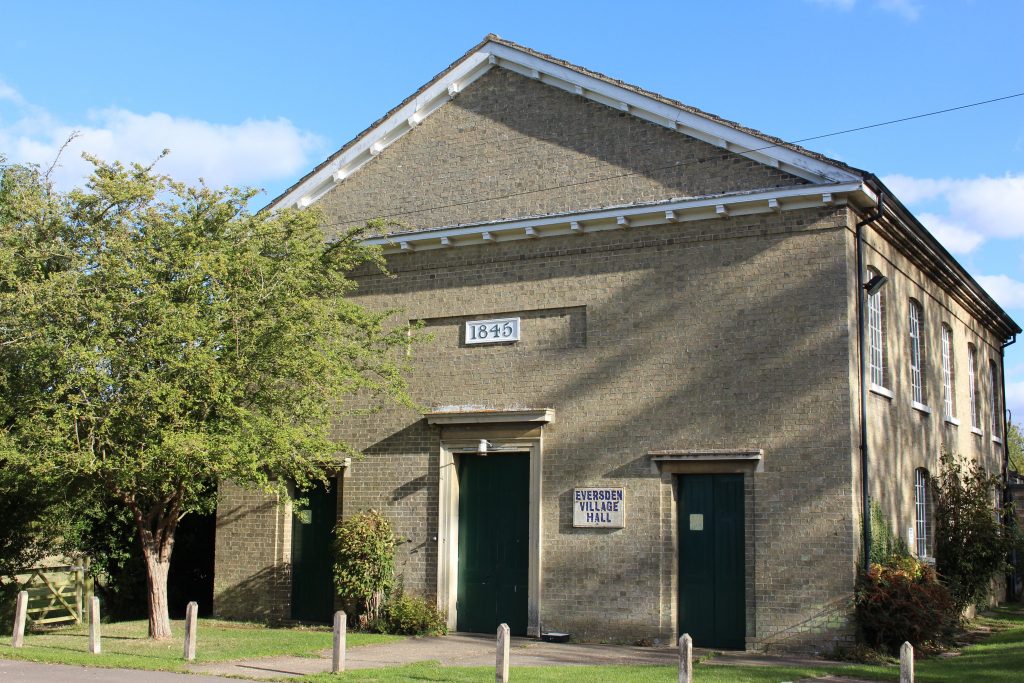 Our Hall is in the Cambridge countryside in the picturesque village of Great Eversden. Our address is: 4 Chapel Road, Great Eversden, Cambridge, CB23 1HP.
The hall is an event space available for hire by residents and the general public.  With a large hall and a smaller committee room, this is an ideal venue for a wedding reception, parties, corporate events, evening classes and club meetings.
For details of Hall facilities and details on how to book please vising our Hiring page.
To find out what's on at our Village Hall check the the home page and the events page, or subscribe to the Village e-mail group, join our Facebook page, or follow us on Instagram or Twitter.
Our Hall is run by unpaid volunteers and is a registerd charity. Our charity number is: 300389
Village Hall Origins
Originally a Congregationalist chapel, built in 1845 to accommodate 500, reflected the strength of Nonconformity in the Eversdens. (The Eversdens' Past section of the Archive has information about the Francis Holcroft plaque.) By 1937, however, membership had fallen to 22. The chapel finally closed in 1965 when its members joined Kingston chapel. The Eversdens Parish Council bought the building and restored it as The Village Hall. Put